Honey Fruit Cake
John McCann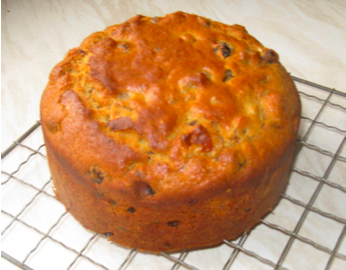 Ingredients:
Self raising flour  200g/7oz
Honey 175g/6oz
Butter 110g/4oz
2 medium eggs
Sultanas 175g/6oz
Glace cherries (halved) 110g/4oz
Pinch of salt
Preheat oven to 180°C/350°F /gas mark 4. Cream butter and honey together. Beat eggs well and add them alternately with sifted flour then fold in sultanas and cherries. A little milk may be added if necessary. Bake in a buttered circular tin, 6½-7½ inches in diameter for approximately 1½ hours. Timing is for conventional ovens and is a guide only as appliances vary.
Fruit and Nut Bars
(Courtesy of Ben Sheeran, Head Chef for National Museums Liverpool)
The following quantities make a lot of bars, so you might want to make half as much. Unless they're for a beekeepers' meeting of course!
480g oats
150g raisins
100g dried apricots
50g banana chips
50g hazelnuts
350g margarine
200g light brown sugar
160g honey
30g treacle
Melt the honey, butter, sugar and treacle together until dissolved. Add all the dry ingredients. Place in a greased baking tray and bake for 20 mins at 150C/ Fan 140C /Gas mark 2.